2022 Honda HR-V Hybrid SUV Overview
The 2022 Honda HR-V Hybrid went on sale in Japan in April 2021, and it's expected to debut in the United States soon. This subcompact crossover features an innovative e:HEV hybrid system that delivers the perfect blend of power and fuel efficiency. The American version of the HR-V Hybrid will likely offer the same powertrain and features as its Japanese counterpart. However, it'll ride on a larger platform and feature a more rugged styling. Check out this detailed overview of the 2022 Honda HR-V Hybrid.
Exterior of the 2022 Honda HR-V Hybrid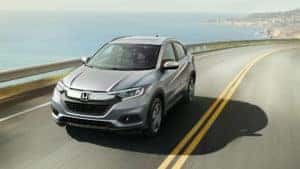 The 2022 Honda HR-V Hybrid is an eye-pleasing crossover that features a modern and bold styling. From the front, it looks slightly different from the previous year's model with its larger hexagonal grille, sharper headlamps, and an inverted V-shaped hood. A bigger greenhouse and a flatter roofline hint at its spacious cabin, while a steeply raked rear windshield adds a sporty touch. Overall, this hybrid SUV has a nice, balanced appearance, thanks to its solid stance, straight character lines, and cohesive design.
According to Honda, the HR-V Hybrid for the United States and Canada may look markedly different from the global model. Since car buyers in these two countries generally value practicality over style, the North American version is likely going to have an upright rear-end for enhanced cargo space.
Besides handsome styling, the Honda HR-V also comes with a wide array of exterior features for enhanced functionality and safety. These features include LED headlamps with LED daytime running lights that also serve as sequential turn indicators, active LED cornering lights, full-width LED rear lights, hidden rear door handles, and a hands-free power lift-gate with Walk-Away Auto-Close function.
Performance
Under the hood of the 2022 Honda HR-V Hybrid, you'll find an e: HEV hybrid system that comprises a gas-powered 1.5-liter four-cylinder engine and two electric motors. Mated to a continuously variable transmission, this powertrain produces 129 horsepower and 187 pound-feet of torque. That's enough power for almost any driving task, from getting around town to passing on the highway.
The powertrain of the HR-V Hybrid is different from other hybrid systems. It relies solely on electric power when the crossover starts moving and then switches to hybrid power when it's under high-torque demand. At a higher speed, the gasoline engine will be fully responsible for generating power.
Handling
Whether you're driving around Fairfield, Ohio, or traveling across state lines, you'll be impressed with the versatile performance of the Honda HR-V Hybrid. As the smallest vehicle in the Honda SUV lineup, this crossover provides outstanding maneuverability, enabling you to negotiate busy streets, sharp turns, and tight parking spaces with ease. It also delivers a smooth and comfortable ride in most situations, thanks to its ability to soak up bumps and rough surfaces. In addition, it's a great road-trip vehicle as it demonstrates excellent stability and composure on highways and winding country roads.
To cater to different driving preferences, the HR-V Hybrid comes with three drive modes: Normal, Sport, and Econ. It also has an additional "B" mode that boosts regenerative braking for better fuel economy. While Honda hasn't released official fuel-efficiency claims for this crossover, you can expect it to deliver outstanding gas mileage due to its hybrid powertrain, continuously variable transmission, and regenerative braking system.
Interior Of The 2022 Honda HR-V Hybrid
On the inside, the 2022 Honda HR-V Hybrid receives a number of updates that help create more space and contribute to a minimalist look and feel. These modifications include a sleeker dashboard, a freestanding central display, and smaller side AC vent control knobs. Additionally, it appears to have a smaller steering wheel and instrument display than the old HR-V. Overall, this crossover has an open, airy, and quiet cabin that provides good outward visibility.
Seating
Up to five people can sit in the Honda HR-V Hybrid. Despite its small size, the subcompact crossover offers a surprisingly large amount of passenger space. Its seats are more spacious than those of its predecessor. The sedan-style seating results in an additional 1.4 inches of legroom, while the revised rear seats are positioned 1.2 inches farther back to create even more space. Also, the driver sits 0.4 inches higher for a more commanding view of the road ahead. In both rows, shoulder room is comparable to that of a compact SUV.
In addition, the HR-V Hybrid has a number of well-thought-out features to provide extra comfort for its front occupants. Its stabilizing front seats come with mat-structure support instead of the usual spring setup to minimize fatigue on both daily commutes and long journeys. It's also fitted with an air diffusion system that prevents air from the climate control system to flow directly at the driver and front passenger. This system releases a stream of breeze-like air from the sides of the vents, causing the conditioned air to travel to the roof.
Tech Features In The 2022 Honda HR-V Hybrid
The 2022 Honda HR-V Hybrid also offers a more generous selection of infotainment features than the previous year's model. You and your passengers can enjoy excellent connectivity and entertainment with a 9-inch touch-screen display, a wireless charging pad, a premium audio system, USB ports, wireless Apple CarPlay, and wired Android Auto.
Safety Features Of The 2022 Honda HR-V Hybrid
Similar to other new Honda vehicles, the Honda HR-V Hybrid is equipped with a number of active safety features to help you become more aware of your surroundings and prevent accidents. These features include collision mitigation braking system, traffic-sign recognition, adaptive cruise control, blind-spot detection, road-departure mitigation, lane-keeping assistance, cross-traffic monitoring, and automatic high-beam headlamps.
The 2022 Honda HR-V Hybrid is expected to be launched in the United States toward the end of 2021. The estimated manufacturer's suggested retail price for this model is around $23,000. The global version of the HR-V Hybrid comes in three trim levels, but the lineup for the North American market hasn't been confirmed. If you want to purchase the 2022 Honda HR-V Hybrid in Fairfield or another part of southwestern Ohio, you can get more information from the friendly and helpful staff at Performance Honda. Contact us via phone, email, or our contact form.