What Are the 2021 Honda SUV Models?
Cross-country driving or cruising around the town can be a lot of fun if you have the right SUV or a crossover. Recent models provide a complete package of comfort, space, infotainment, stylish designs, and elegant interiors while still churning out respectable power and good fuel economy. With so many different versions and trims available in the market, it can be confusing to choose the right one.
Performance Honda offers a convenient comparison of models in the latest lineup of Honda SUV models and crossovers in one place, so you can drive home with the crossover that best suits your needs.
Honda's 2021 SUV Model Lineup
Honda has introduced four different utility vehicles for 2021, namely the HR-V, CR-V, Pilot, and Passport. Each model has unique features, making it suitable for particular driving styles, space requirements, and power. Furthermore, these models are available in various trims so that you can select the one you want and load it up with your favorite accessories.
No matter which model you choose, all 2021 Honda SUV models include the Honda Sensing suite of driver-assist technologies as standard safety features and parking assists. Most models also integrate the Apple CarPlay and Android Auto in the touch screen entertainment system for your iPhone or Android devices with the smartphone mirroring technology.
Honda HR-V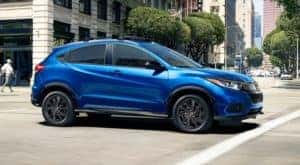 The Honda HR-V is a compact crossover with SUV styling. It's small enough to move quickly through traffic and park effortlessly, yet it has plenty of space for five people with sufficient headroom and legroom. The Magic Seat feature with a 60/40 split is a fantastic option to create 59 cubic feet of space for your bulky suitcases in the back.
This stylish crossover is great for a quick sprint around the city roads with its 1.8-liter 4-cylinder gas engine. Producing 141 horsepower at 6500 rpm and 127 pound-feet of torque at 4300 rpm, the HR-V provides a good mileage rating of 28-34 mpg. A Continuous Variable Transmission (CVT) allows you to forget about constant gear changes and enjoy the bliss of driving instead.
The Honda HR-V is available in 4 trims (LX, Sport, EX, and EX-L) with additional features and accessories in each successive trim. However, you can customize your build with accessories before you place your order.
Honda CR-V and CR-V Hybrid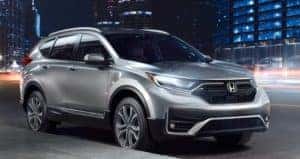 The Honda CR-V is the HR-V's big brother, with more aggressive styling on the front. It also packs an extra punch for quicker acceleration, which comes from a turbocharged 1.5-liter gas engine producing 190 horsepower at 5600 rpm and a torque rating of 179 pound-feet at 2000-5000 rpm.
You'll also notice subtle styling changes in the interior, such as more centralized placement, size, and shape of the touch screen. The CR-V has a bigger trunk behind the second row for your storage needs, with a hidden compartment for your spare tire below the floorboard. With the seats in the second row flipped down, you can increase this space to 76 cubic feet of cargo volume.
There's a hybrid version of the CR-V as well, which pairs the 1.5-liter engine with two electric motors to generate an impressive 232 pound-feet of torque at just 2000 rpm. Both versions are available in LX, EX, and EX-L trims. The Touring trim for either version includes some additional features, such as a hands-free access power tailgate, wireless phone charger, and a heated steering wheel as standard options. Despite their differences in power, both versions have a towing capacity of 1500 pounds.
Honda Pilot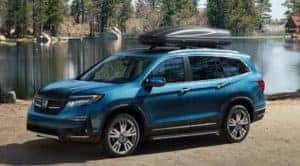 If you need a powerful and stylish mid-sized SUV for your large family, the Honda Pilot is your best choice compared to a minivan. Powered by a direct-injected i-VTEC 3.5-liter V-6 engine, it produces a whopping 262 pound-feet of torque, enough to carry your entire family and haul a trailer. Its towing capacity is 2000 pounds with FWD or 5000 pounds with the i-VTM AWD. A standard 9-speed automatic transmission taming all that power means that you never have to lift your hands off the steering wheel.
Seating in the Honda Pilot provides ample headroom, legroom, and shoulder room for eight people to relax without bumping elbows with each other. If you travel alone and need additional space for your grocery resupply missions, just fold the seats in the second and third rows to get a massive 109 cubic feet of storage volume.
Beneath the tough exterior and a strong engine, the Honda Pilot is extremely comfortable and safe, with a host of convenience options, such as push-button start, tailgate locks, a conversation mirror, moon roof, a tri-zone automatic climate control system for the first and second-row seats, and integrated sunshades for the second row to mention a few.
Connectivity options include Bluetooth, USB charging ports, and MP3 input jacks in the basic LX, EX, and EX-L trims. If you want more goodies to ham up your digital experience, check out the Special Edition, Touring, and Elite trims. Some of these excellent additional features include a wireless phone charger, feature-rich rear entertainment system with blue-ray and streaming, in-car PA system, and Wi-Fi hot spot.
Honda Passport
Compared to other brands, the Honda Passport is a premium offering and includes many add-ons, which are offered as optional upgrades in its competitors. As a medium-sized crossover, you can consider it as an upgrade from the Honda CR-V with more space for passengers and cargo, a bigger engine, and modest off-road capabilities. In fact, the Honda Passport is essentially a Honda Pilot with the same engine, mileage ratings, fuel capacity, interior styling, exterior design, and connectivity features, but with some key differences:
Two seating rows instead of three.

Extra ground clearance.

Reduced length at the back.

Wider tires on higher-end trims.
Both models let you enjoy abundant space in the back with folding seats and extra storage compartments under the floorboard for your groceries and the spare tire. However, the Passport is ideal for an active lifestyle that involves kayaking, bike rides around the mountains, hiking, or cross-country tours. Moreover, it can still satisfy your shopping sprees and let you park without a fuss, which is a bonus.
Which Honda SUV Should You Buy?
The compact HR-V should address all your needs and still give you the SUV driving experience in cities. The CR-V is for people who need the HR-V's comfort and utility but also want some zest from the engine. Caring moms can look up to the Honda Pilot for unmatched convenience, entertainment, space, and safety. To satisfy your adventurous spirit, you can get the Honda Passport instead. Contact Performance Honda if you have any questions or would like to schedule a test drive.