Most Popular Honda Models of 2022
Honda offers many different kinds of vehicles, from small sedans to large SUVs and more. When shopping for a new or used Honda, you may be a little overwhelmed with the number of options presented by Honda alone. To make it easier, below are some of the most popular models offered by Honda. Explore these choices and see if one of them is right for you. If you have any questions, give us a call at (513) 829-6900.
The Honda CR-V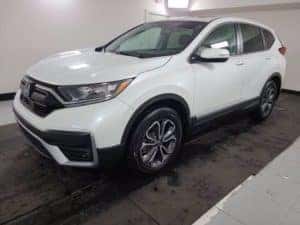 The CR-V is one of Honda's most popular models. The CR-V is a Honda SUV that comes packed with features and is a joy to drive. For the 2022 model, you can expect to find a 1.5-liter turbocharged engine that produces 190 horsepower. This combines with a great continuously variable transmission to provide an excellent ride with plenty of power. In addition, the powerful engine allows the Honda CR-V to tow up to 1500 pounds. If you're looking for a hybrid, you can also get the CR-V with two electric motors that combine for 212 horsepower.
On the inside, drivers can expect a spacious and comfortable ride. Some of the features you can expect to get with the 2022 Honda CR-V are a 7-inch infotainment system, Apple CarPlay and Android Auto capabilities, a nine-speaker audio system, automated emergency braking, forward collision warning, adaptive cruise control, and lane-departure warnings. There's also plenty of cargo space, as you can fold down the rear seats to expand the cargo area. If you're looking for a great all-around SUV, there's a reason that the CR-V is one of the more popular options.
The Honda Accord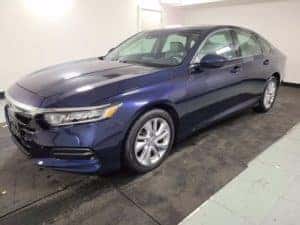 The 2022 Honda Accord isn't just a great Honda sedan; some say it's one of the best sedans of any manufacturer. What's great about the Honda Accord is that it packs a similar performance compared to many other crossover SUVs while still providing drivers with an enjoyable drive on twisty roads.
The base model comes with a 192 horsepower turbocharged engine, but you can easily upgrade this to a 252 horsepower turbocharged engine. For those of you in the market for an electric vehicle, the Honda Accord also comes as a hybrid option, which is powered by both a gas engine and two electric motors.
Despite being a sedan, the 2022 Honda Accord still has a spacious cabin. There's plenty of space for both the driver and the passengers, including those in the rear seats. This extends to the trunk, where there are 17 cubic feet of storage – one of the best in its class. As for technology, expect an 8-inch touchscreen display, Apple CarPlay and Android Auto capabilities, and a 10-speaker audio system. You'll also get plenty of safety features, such as automated emergency braking and adaptive cruise control.
The Honda Odyssey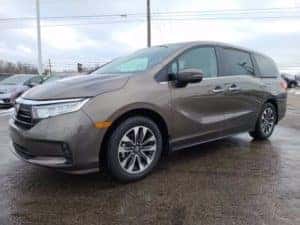 Finally, there's the 2022 Honda Odyssey. The Odyssey is a minivan, making it a little larger than the SUV options. This is the vehicle to consider if you're looking for a great family car that makes your road trips more enjoyable. It starts with a V6 engine under the hood, which helps to deliver powerful performance, especially for a minivan. One of the best things about the Odyssey is its fuel efficiency. It comes in at 19 mpg in the city and 28 mpg on the highway, which is great for a vehicle of this size.
But if you're looking to get a minivan, then you're probably more concerned with its interior comforts. To start, the 2022 Honda Odyssey offers one of the most spacious cabins in its class, providing more than enough room for the driver and two rows of passengers. You can also adjust how much space each passenger row gets with Honda's second-row Magic Slide seat feature.
The Odyssey also comes with some tech features that make it the perfect family vehicle. For example, there's an interior camera that allows the driver to monitor kids in the backseats, along with a rear entertainment system that makes it easy for those in the back to stream music or movies.
Which Honda is Right for You?
All of the above Honda models are popular for a reason – they offer great value and plenty of features to make most drivers happy. However, there's a good chance that one of the above vehicles is a better fit for you compared to the others based on your personal needs. For example, if you're a parent with several kids, you'll likely enjoy the entertainment features, extra seats, and cargo space found in the Honda Odyssey.
Perhaps you're looking for something that's able to handle a bit more. You want a vehicle that you can drive in tougher conditions and has enough cargo space for a long road trip, while still being useful for running errands on the weekends. If so, the Honda CR-V is probably better for you than the Odyssey or Accord.
Finally, if you're looking for a sedan that comes packed with features and strong performance, then the Honda Accord may be the better choice. It's smaller than the other two, making for a better driving experience on tighter roads and on the highway. It's also more affordable than the Odyssey and the CR-V, making it a good choice if you don't need the extra cargo and passenger space.
Get Your Next Honda At Performance Honda of Fairfield, OH
The above models are some of the most popular Honda options. However, they are not the only options. Whether you are interested in one of the popular Honda models or something else they have to offer, Performance Honda of Fairfield, OH is here to help. We can walk you through all the options that Honda offers, take you out for a test drive, and help you decide which model is best for your needs.
To get started, browse through our current inventory of new vehicles or browse our selection of pre-owned vehicles. You can also contact us at any time to schedule an appointment at our Honda dealership to further discuss what you're looking for. Discover what makes Honda models so popular and how you can get one for yourself today. Give us a call at (513) 829-6900.