Best Used Honda SUVs in 2023
There aren't many vehicles that provide as much all-around versatility and practicality as a Honda SUV. They offer a good amount of cargo space, a decent level of passenger comfort, and plenty of safety features while also being great for city cruising, country road trips, and more. If you need ideas for what model and year of Honda crossover or SUV to get, Performance Honda in Fairfield and Cincinnati has got you covered. Click the link below if you'd like to speak with a team member today.
Take a look at some examples of the best used Honda SUVs in 2023. Whenever you're ready, search our online inventory of quality pre-owned Honda models to narrow down your list.
2015 Honda CR-V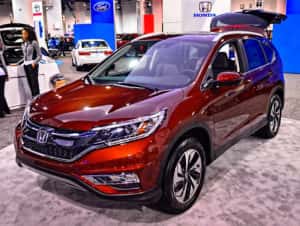 The Honda CR-V is an excellent choice for families, with older model years such as 2015 still being dependable choices. In that year, the CR-V was redesigned with greater lifetime mileage, new amenities, and even a few cosmetic changes. Perhaps the biggest update was to the 2.4-liter engine, which was combined with a continuously variable automatic transmission. This setup is also found in the Accord and leads to increased torque and significantly improved fuel efficiency.
Ranked among the most fuel-efficient non-hybrid crossovers, the 2015 CR-V provides 3 mpg more than the preceding year. This comes from an EPA-estimated combined performance of 29 mpg using front-wheel drive, with 27 mpg for city and 34 mpg for highway driving. Honda also upgraded the exterior with LED running lights and new front and back fascias, and the interior features a larger touch screen, enhanced materials, and a more traditional center console design. There's also a Touring model, which includes extra amenities and multiple performance and automatic safety features.
2017 Honda Pilot
If you need the space and seating of a minivan but still want a sleek SUV or crossover, you'll likely enjoy the technology and eight roomy seats of a pre-owned Honda Pilot. The Pilot offers popular features, such as LED headlights, an 8-inch touch screen, Apple CarPlay, and Android Auto, which come standard since the 2017 model. The LX, EX, and EX-L model levels include a direct-injection 3.5-liter V-6 engine with 280 horsepower and 262 lb-ft of torque, along with a six-speed automatic transmission. The Touring and Elite trim levels use a nine-speed automatic transmission.
The 2017 Pilot is also equipped with safety technologies that will make driving easier. With the multi-angle rearview camera with dynamic visuals, you can see everything around you and have almost complete rear detection with the optional blind-spot sensing technology. The 2017 Honda Pilot was named a Top Safety Pick Plus, receiving the Insurance Institute for Highway Safety's (IIHS) top grade of Good in five crash tests. It also received five stars from the National Highway Traffic Safety Administration (NHTSA) in various crash tests.
2018 Honda CR-V
A popular crossover, the 2018 Honda CR-V's utility and value are enhanced by its assertive appearance, turbocharged engine, and polished interior. A powerful 2.4-liter four-cylinder engine is available on all grades, save the base LX, and it delivers 184 horsepower as standard. The optional 1.5-liter turbocharged four-cylinder produces 190 horsepower. The base engine provides 26 mpg in the city and 32 mpg on the highway, while the optional engine gets 28 and 34 mpg respectively.
2019 Honda Passport
The 2019 Honda Passport is a two-row, five-passenger SUV, with a design that sits between the CR-V and the Pilot. Using front-wheel drive with all-wheel drive as an option, the Passport is styled and fitted for a rougher, sportier drive. This large, reinforced unibody SUV is powered by a single engine: a direct-injection 3.5-liter V-6 with 280 horsepower and 262 lb-ft of torque.
Unlike those knobby-tired off-road giants, the 2019 Honda Passport rides quietly on local neighborhood roads or major highways. The nine-speed automatic transmission is prudent and provides a pleasurable and smooth ride. Shifts are properly spaced, and power delivery is consistent. The EPA numbers are competitive too, with front-wheel-drive versions averaging 22 combined mpg and all-wheel-drive models averaging 21 mpg. The IIHS has also named the Passport a 2019 Top Safety Pick.
2020 Honda HR-V
If you're looking for an excellent used SUV from 2020 or later, the HR-V may be the perfect choice thanks to its class-leading cargo volume and roomy second row. As is the trend with modern Honda vehicles, the HR-V stands out due to its fuel-efficient powertrain, smooth ride, and high-quality cabin materials.
The 2020 HR-V received a five-star overall safety rating from the NHTSA, with five stars in the side-impact test and four stars in the frontal-crash and rollover tests. As for fuel economy, models with front-wheel drive get 28 mpg in the city and 34 mpg on the highway. All told, it's a still-recent model year that's received only a few updates in the following three editions.
2021 Honda HR-V
Finally, we'd be remiss not to recommend a Honda SUV from only a few years back. A pre-owned 2021 Honda HR-V is just as wise of an investment as one from 2020 or other model years. It's identical to the prior version but for an expanded list of available safety features, such as adaptive cruise control, lane-departure warning, lane-keep assist, and automatic emergency braking. You may also be able to affordably upgrade to a 2021 edition with keyless entry, heated front seats, an improved sunroof, and more.
Overall, a 2021 Honda HR-V is well worth a look if it fits within your budget. Thanks to our special discounts, superior financing, and market-value trade-ins, you may be able to afford a 2021 or more recent pre-owned HR-V at Performance Honda.
Used Honda SUV for Sale in Fairfield
Do you think a used Honda SUV would be a good fit for you? Stop by or contact us at Performance Honda in Fairfield to help stretch your budget and find better financing options. You'll also get superior customer service from our representatives who have the expert knowledge to answer all your questions.
Because our inventory changes frequently, there are always new offers to be found on our lot. Browse our pre-owned inventory whenever you like. If you have a specific requirement, please let us know and we'll assist you in locating the best car for your needs. Give us a call at (513) 829-7300 or come in for a test drive today.
Image Credits: Honda 2015 CR-V 5DR 2WD TRG by Tomás Del Coro is licensed with CC BY-SA 2.0