2022 Honda Civic Model Overview
At long last, after a heap of speculations and teasers, Honda is launching the 2022 Civic. The Civic is one of the best-selling Honda cars in the U.S. thanks to its versatility, affordability, and performance. With the 11th generation Honda Civic, we get a new aerodynamic design and elegant interior coupled with an assortment of infotainment features.
Honda Civic Performance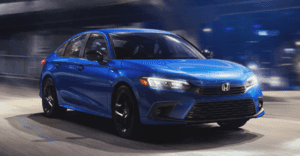 The 2022 Civic debuts with an evolutionary interior and exterior design, but it retains much of its powertrain features from the 2021 Civic. Under its elongated hood, the Civic's base trim comes with the standard 2.0-liter four-cylinder engine that delivers 158 horsepower. Higher trims come with a powerful 1.5-liter turbocharged engine that delivers 180 horsepower.
However, with the new Civic Sedan, you won't have the option of manual transmission or all-wheel drive. It comes with a continuously variable transmission (CVT) which provides great handling and well-balanced rides. CVT transmissions boast outstanding performance and reliability. A six-speed manual transmission is standard on Type R models and the Sport trims of the Civic Hatchback.
Trim Levels and Configurations
The redesigned 2022 Civic Sedan comes in four trim levels: LX, Sport, EX, and Touring. As you can see, Honda has discontinued the mid-grade EX-L trim, which was available in previous generations of the Civic. All trims feature front-wheel drivetrains and CVT transmission.
To accommodate the new interior design and the extra cabin space, the new Civic features a longer wheelbase and length. While the length has been increased by 1.3 inches, its height and width remain unchanged.
The LX and Sport trims feature a 2.0-liter engine. The EX and Touring trims boast a powerful 1.5-liter turbocharged engine and a hoard of extras such as heated front seats, a wireless charge pad, blind-spot monitoring, and a larger display screen.
Interior
Honda has livened up the interior of the Civic with a simpler, sleeker design. Embracing a minimalist style, the Civic's interior features more room, thanks to the additional 1.4 inches on the wheelbase. The modern interior features a contemporary infotainment system that sits above everything else on the dashboard. It's right within the driver's reach and provides easy access to controls.
The Civic features a wide hexagonal mesh design that dominates the dashboard and hides the A/C vents. Complementing the revamped look is the thin-rimmed steering wheel, which hosts various controls for the infotainment system and cruise control.
The front bucket seats and the rear seats have been redesigned to provide more space and extra comfort. With ample trunk space and decent legroom for taller passengers, the Civic provides cozy long-distance drives.
Fuel Efficiency
For decades, Honda has made sure that its sedans are economical on both city streets and highways. The Honda Civic has made its name for its reliability and efficiency. This legacy continues with the 2022 model.
The Civic LX is powered by a 2.0-liter inline-four engine that produces 158 horsepower and 138 pound-feet of torque. The LX delivers good fuel efficiency, with 31 mpg in the city and 40 mpg on the highway. The Civic Sport trim is slightly less efficient than the LX model, with an average of 33 mpg — 30 mpg in the city and 37 on the highway.
The higher trims, EX and Touring, come with the turbocharged 1.5-liter inline-four engine. Because of its impressive power and torque, the EX trim gets an average of 36 mpg, delivering 33 mpg in the city and 42 mpg on the highway. The luxurious Civic Touring gets an average of 34 mpg, delivering 31 mpg in the city and 34 mpg on the highway.
Superior Handling and Refined Rides
The new 2022 Civic rides on a new platform featuring a robust aluminum subframe for lighter weight and better agility. With a longer wheelbase and slightly wider rear track than its predecessors, the 2022 Honda Civic provides a cozy ride and stability around corners. Combined with the new MacPherson strut suspension, the changes on the wheelbase and rear track provide a refined driving experience. 
As compared to its close competitors like the Toyota Corolla and Hyundai Elantra, the Civic delivers impressive handling. Steering is quite responsive.
Tech Integrations and Infotainment Features
The base models feature a 7-inch primary display while higher trims come with a 9-inch display, the largest for any Honda vehicle. Honda replaced the volume slider with a knob and several buttons for navigating through the screen. It supports Apple CarPlay and Android Auto and has a wireless charging pad. The top-range trims offer HD Radio, satellite navigation, Bose speakers, and SiriusXM.
The digital instrument cluster that shows a virtual representation of all gauges is standard in all trims. With a better and faster infotainment system, drivers can connect devices, switch radio stations, and navigate through menus with ease. With stylish physical buttons for accessing major controls, drivers don't have to worry about clutter on the digital screen.
Safety and Driver-Assistance Features
Emergency braking, adaptive cruise control, and lane-keeping assist are standard safety features in all 2022 Civics. The adaptive cruise control system has stop-and-go capabilities. Other safety technologies integrated into this model include lane-departure warning, forward collision warning, traffic jam assist, blind-spot monitoring system, and traffic sign recognition.
Civic's overall structure is rigid and stable. The side pillars are stronger than those of its predecessors. Changes in length and wheelbase increase safety ratings. The new front airbag design reduces head and neck injuries in case of collisions. For the safety of pedestrians, the newly designed bumper and hood make it less damaging in case of accidents.
Get the 2022 Honda Civic at Performance Honda
Are you intrigued by the design, performance, tech, and efficiency of the new Honda Civic? You can get a brand-new 2022 Honda Civic in Cincinnati by visiting us at Performance Kings Honda. We have an extensive inventory of Hondas for sale and lease.
Whether you're looking for a used or a new Honda offers, Honda lease specials, or Honda service specials in Fairfield, Ohio, Performance Kings Honda is the right place to be. Use our online platform to get pre-qualified for an auto loan, or contact us to organize financing suitable for your needs.