What are the 2021 Honda Hybrid Models?
Driving a hybrid car is a thrilling experience. With additional electric motors complementing your gas engine, you can enjoy quick acceleration and improved mileage. Honda has upgraded four of its signature models, the Insight, Accord, CR-V, and Clarity to hybrid versions as a part of its mission to lower emissions and reduce the carbon footprint.
If you have your heart set on buying a hybrid but are unsure which type of car you want, Performance Honda has provided a brief overview of the four available hybrid models and their features.
Honda Insight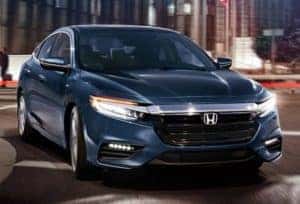 The stylish and sophisticated Honda Insight has come a long way from its two-door, two-passenger hatchback versions introduced in 1999. Since then, the exterior has undergone many changes until Honda decided to make it a four-door sedan.
The Insight is essentially built on a Honda Civic platform for most intents and purposes. It even borrows elegant design cues from its Civic counterpart for the latest 2021 model. However, the primary difference is its powertrain, modified for the fuel-efficient Atkinson-cycle 1.5-liter 4-cylinder engine producing 151 horsepower. This hybrid engine boosts its mileage to an impressive 55 mpg in the city, 49 mpg on highways, and 52 mpg combined.
Seating arrangements provide enough space for five people to sit comfortably in its spacious cabin with 97.6 cubic feet. The rear seats have a standard 60/40 split for three people. A 15.1 cubic feet of cargo volume ensures that you never run out of space on your office runs.
The basic LX and EX trims are an excellent option for your family of five or a decent carpool group. Additional features include three selectable driving modes (ECON, Sport, and EV), a front underbody spoiler, an automatic climate control system with three settings, and all-season floor mats. If you need extra bells and whistles such as heated front seats, Wi-Fi hot spot, or a one-touch power moonroof with a tilt feature, you can select the Touring trim instead.
Honda Accord Hybrid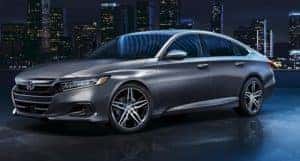 Built on the tenth generation of the Honda Accord from 2017, the 2021 Honda Accord Hybrid model is an amazing combination of power and efficiency. With a mileage rating of 48 mpg for city, highway, and combined on all trims except the Touring one, getting a hybrid Honda Accord can be the best decision if you are looking for a powerful, fuel-efficient sedan.
It has two electric motors paired with a 2-liter DOHC i-VTEC® Atkinson-cycle 4-cylinder engine producing 212 horsepower and 232 pound-feet of torque combined. This engine gives it better acceleration and power output than the turbocharged 1.5-liter Accord Sedan. So, it makes sense to go for the hybrid, especially since the price difference between both options is negligible.
Available in Hybrid, EX, EX-L, and Touring trims, the hybrid Accord has more passenger space (105.6 cubic feet) and larger cargo volume (16.7 cubic feet) than the Honda Insight, with a slight compromise in fuel efficiency. However, it has a muscular styling compared to smoother outlines on the Insight. More importantly, Honda has finally upgraded the 2021 Accord with Apple® CarPlay® and Android Auto™ integration.
Honda CR-V Hybrid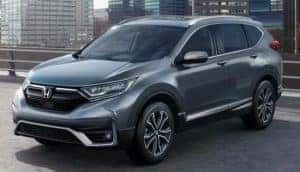 If you are looking for a sleek crossover with active aerodynamics, your best bet would be the Honda CR-V hybrid. Its engine and powertrain are identical to the Honda Accord hybrid, which means you get the same horsepower and torque figures. However, the mileage rating for the CR-V is 45/35/38 mpg for city, highway, and combined because of its increased curb weight and AWD system.
The five-seater CR-V also comes with the same passenger volume as the Accord but has more cargo space of 39.4 cubic feet at the back. Moreover, the 60/40 split rear seatback can be folded easily to get an increased 75.8 cubic feet of storage.
Its basic trim has many convenience features, such as the Blind Spot Information (BSI) system with cross-traffic monitor, heated front seats, rear privacy glass, and HondaLink®. The higher-end EX, EX-L, and Touring trims also have a unique feature called Acoustic Vehicle Alerting System (AVAS), specially designed to alert pedestrians.
Honda Clarity Plug-in Hybrid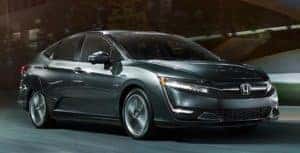 When you see the Honda Clarity for the first time, you'll immediately notice the futuristic styling and uniquely shaped rear fenders. The 2021 Honda Clarity also works differently than other hybrids.
It does have a 1.5 -liter gas-powered engine producing 103 horsepower and 99 pound-feet of torque. However, it is rarely used in active transmission. Instead, it acts as a generator for a 17-kilowatt-hour battery powering an alternating current permanent magnet synchronous electric motor with 181 horsepower and 232 pound-feet of torque.
This unique configuration allows mileage ratings of 110 miles for the electric motor on a full battery charge, 44/40/42 mpg for city/highway/combined for the engine alone, and 340 miles with the engine and motor working together. The battery can be fully charged on a standard 240-volt electrical outlet in about 2.5 hours or a 120-volt source in approximately 12 hours. This system provides a dual benefit of versatility. You can use the electric motor for your daily drives or use the gasoline engine for long trips.
Despite its shorter wheelbase, the Clarity's interior is big and well-equipped. It's roomy enough to accommodate five passengers with a 60/40 split and 15.5 cubic feet of cargo space. The interior is even covered with an all-season floor mat and a strong cargo net for camping as a bonus.
The overall design and functions of the Clarity plug-in hybrid make it travel-friendly and very beautiful to look at.
Which Is the Best Hybrid Model?
All Honda hybrid models have some standard features, such as Honda Sensing® driver assist systems, LED headlights with automatic On/Off, push-button start, Bluetooth® HandsFreeLink®, eight-year limited battery warranty, and Electronic Continuously Variable Transmission (e-CVT) with Sport Mode.
Honda has also reused a lot of engine and transmission technology as well as connectivity features in their hybrid lineup. However, you'll definitely notice the differences in acceleration, mileage, and handling when you try them out on a test drive. So, the best hybrid model would be the one that suits your needs and catches your eye. But no matter which hybrid you choose to buy or lease, rest assured that you'll enjoy a memorable driving experience! Contact Performance Honda today if you have any questions!