2021 Civic Hatchback – Model Overview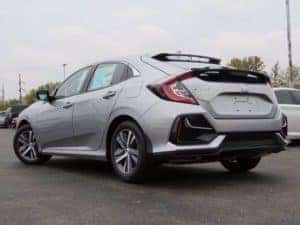 The 2021 Honda Civic is your chance to purchase a hatchback with a sporty design. With a starting retail price of just over $21,000, the Civic also has a competitive price tag. On top of that, you'll find comfortable seating for five people inside and a spacious amount of cargo storage behind the rear seats. The top details that stand out about the 2021 Civic are finally here to see.
Eye-Catching Exterior
Honda's design for the 2021 Civic Hatchback gives it a sporty feel. It has sharp creases and body-colored door handles. Most trims in the lineup get halogen headlights, although they're replaced by LED lamps on the top-level Sport Touring trim. The Civic comes with 16-inch alloy wheels, which increase to 17 or 18 inches depending on how far up the trim options you go. You get LED brake lights as standard with all trim levels.
Engine Performance
The Civic's turbocharged engine gracefully propels this hatchback, enabling it to move from 0 to 60 in around seven seconds. The engine generates 180 horsepower, giving the Civic hatchback the feel of a larger, more powerful vehicle. Coupled with the Civic's sporty handling, its new power makes the Civic responsive. The car's base engine is powered by a continuously variable transmission (CVT). The Sport and Sport Touring trims give you the option of a six-speed manual if automatic shifting doesn't fit your lifestyle.
A Wide Choice of Colors
The Civic has nine-color options that can help you to create a personal look in your new car. Color options include crystal black pearl, cosmic blue metallic, rallye red, and Aegean blue metallic. Alternatively, consider this year's modern steel metallic, lunar silver metallic, platinum white pearl, or molten lava pearl. Your color selection may be limited depending on the trim you choose.
Excellent Handling
The Civic's front-wheel drive and standard engine ensure a smooth and comfortable ride without sacrificing handling. Its low profile and its stable undercarriage make it agile while nimble around corners. In spite of its relatively powerful engine, the Civic is quiet inside and outside on the streets. You and your passengers can sit in peace, enjoying yourself in one of the most powerful compact cars of 2021.
Strong Fuel Economy
The Civic's fuel economy varies depending on your trim choice and its transmission, but all configurations achieve well over 30 mpg combined. The LX and X trims with a CVT are capable of 31 mpg in the city and 40 mpg on the highway. On the other end of the spectrum are the Sport and Sport Touring trims with a CVT trans. They achieve 29 mpg in the city and 35 mpg on the highway. With a 12.4-gallon fuel tank, your Civic should manage about 400 miles of driving per fill.
The only exception to this is the performance-oriented Type R hatchback, which, due to its more powerful engine, has a fuel rating of 22 mpg in the city and 28 mpg on the highway. In exchange for a drop in fuel efficiency, the Type R hatchback's engine generates more than 300 horsepower under its hood.
Infotainment and Accessories
The base infotainment system is equipped with a 5-inch touch screen and a four-speaker sound system. For more, try upgrading to the Sport trim to increase your screen size to 7 inches. You'll also get Apple CarPlay and Android Auto, setting the tone for an eight-speaker sound system. With the Sport Touring model, you get a premium 12-speaker system with a larger audio output for your music and podcasts.
Safety
The safety and driver-assist features of the 2021 Civic are standard in all trims for the year. Honda's safety packages include automatic braking, collision, and lane departure warning. Additions like adaptive cruise control, lane keep assist, and blind-spot monitoring are also available. The National Highway Traffic Safety Administration gives the 2021 Civic a five-star safety rating, being the NHTSA's highest rank.
Trims
The Civic hatchback is available in four trims: the LX, Sport, X, and Sport Touring. If you want a little extra on the performance side, you may be interested in the Type R hatchback, which is available in two trims: Type R and Type R Limited. The Type R has a turbocharged V-4 engine that generates 306 horsepower. With the LX hatchback, you get the standard infotainment with driver-assist packages, cloth upholstery, and automatic climate control. The Sport upgrade has a proximity-keyless entry feature.
This Sport trim is manufactured with a larger infotainment-touch screen, a leather-wrapped steering wheel, and a push-button start. This year's X trim has heated front seats, satellite radio, an eight-way power-adjustable driver's seat, remote start, and a moonroof. Finally, the Sport Touring trim has extremely useful rain-sensing windshield wipers, a four-way adjustable passenger seat, and a navigation system.
For those of you interested in seeing the hatchback in a different light, Civic's 2021's body is also manufactured as a sedan with five trims: the LX, Sport, X, XL, and Touring. The initial sedan models of the 2021 Civic have a 2-liter V-4 that's capable of generating 158 horsepower. The upgraded trims of the Civic sedan replace its 2-liter engine with a V-4 turbocharged block found in a hatchback model.
We think that the 2021 Honda Civic should be on the top of your list if you're in the market for a compact car in 2021. If you still have any questions about its performance, accessories, or anything else, don't hesitate to contact us at Performance Honda for advice. We're prepared to get behind the latest edition of this iconic vehicle that's been wowing drivers for decades now.