Are you noticing that your car's steering is acting up? Or are your tires wearing out more quickly than they should? These are two common signs that your vehicle has misaligned wheels. The good news is that a wheel alignment is a relatively straightforward car maintenance job that the professionals at our Honda-certified service center in Fairfield, Ohio, can take care of in a hurry so you can get back on the road.
Wheel Alignment Services in Fairfield, OH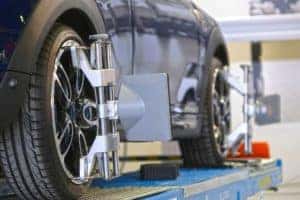 With our state-of-the-art measuring technology, we can tell in a matter of seconds if your vehicle is dealing with a wheel alignment problem. Our measuring equipment will also tell our technician how many of your wheels require realigning. Your wheels can get out of alignment for various reasons, including if you do a lot of off-roading with your crossover or truck.
Once we've diagnosed the problem, we'll get to work fixing it. We can conduct adjustments or repairs to your suspension as necessary, such as replacing bearings or springs. We can typically take care of a wheel alignment problem in a relatively short appointment of about 30 minutes to 1 hour. The exact amount of time we need depends on several factors, including the extent of the misalignment and whether any other components need repairing or replacing.
We recommend that if you're coming to our Fairfield dealership for a wheel alignment, you should schedule an appointment ahead of time. It's easy to do with our online reservation tool, and it'll save you time because you won't have to wait in line to be seen by one of our Honda-certified auto technicians. Once you're here, you can wait in our comfortable waiting area until we've got your car ready to hit the road.
Why Is It Important To Get a Wheel Alignment?
Misaligned wheels on your vehicle can be a serious safety risk. While their impact on your steering may at first be small, the problem can grow if you don't attend to it. You could start finding it increasingly difficult to navigate corners or busy traffic, which puts you, your passengers, and other drivers at unnecessary risk.
Getting your wheels aligned can also safeguard other parts of your vehicle from damage. For example, your tires are exposed to extra pressure if you drive a car with misaligned wheels. As a result, they may wear out more rapidly than usual, meaning that you'll have to spend money on a new set much sooner than the average driver.
Another part of your car that misaligned wheels can damage is your brakes. Brake pads can wear down unevenly if you don't get your wheels aligned. In extreme cases, brake discs and other components could be damaged, which could end up costing a considerable amount to put right.
How Can You Tell When You Need a Wheel Alignment?
There are three key warning signs to look out for if you're trying to determine whether you need a wheel alignment. The first is if your steering wheel doesn't stay straight any longer. When you take your hands off the steering wheel while you're driving on the highway, it should remain relatively straight.
If your steering wheel pulls sharply to one side or the other, this may indicate you have misaligned wheels. Likewise, if you're holding your steering wheel and you feel it pulling to one side or the other, it's time to let an auto professional take a closer look.
The second warning sign is if your tires start wearing unevenly. Tires will inevitably wear down over time, with many manufacturers recommending that they be changed after four to six years of driving. However, if you notice that your tires are wearing through much more rapidly, the cause could be misaligned wheels. The reason for this is that parts of your tires will be exposed to excessive pressure if your wheels aren't turning properly.
The final major warning sign is if your steering wheel vibrates while you're holding it. A small amount of vibration shouldn't be too much to worry about, especially if you're traveling over rough terrain. However, it becomes a problem if you notice your steering wheel vibrating continuously. Often the vibration will get worse the longer you fail to get a wheel alignment. This can result in your car being harder to drive.
Why Choose Performance Honda To Align Your Wheels
If you're searching for a reliable partner for wheel alignments in Fairfield, you should make our Honda service center your first stop. At Performance Honda, our expert technicians make use of industry-leading technology to get the job done to a high standard. We also use original equipment manufacturer parts for all the work we do on cars and crossovers, which helps ensure that any new part we install will perform to a high standard.
Our service team can perform other important maintenance tasks while your vehicle is in our service center. We can carry out oil changes, tire rotations, fluid top-ups, and battery tests to ensure that your Honda continues to perform at its best. One of our technicians can also conduct a multi-point inspection to make sure there are no other urgent maintenance or repair jobs that need to be taken care of.
Before you stop by our Fairfield dealership for a wheel alignment or any other car maintenance service, don't forget to check out our service and parts specials. Here, you'll find all the discounts and other incentives we currently offer across our service and parts departments. These offers may include special prices on new components, like brake pads or tires, or reduced rates for maintenance services. You can also order parts ahead of time using our online parts form.
We hope that we've been able to answer all your questions about wheel alignments and our related services. If you think you may need a wheel alignment and would like some advice, don't hesitate to contact us today. One of our service team members will be happy to assist you with their expertise, whether by phone, online, or in person. Alternatively, just go ahead and schedule an appointment at our service center and let our Honda-certified professionals take care of the rest.