2022 Honda Civic in Fairfield
The Honda Civic has built a reputation as a vehicle that perfectly combines form and function every year. With the 2022 Honda Civic now arriving at dealerships for sale, you may find yourself wondering if it lives up to its reputation, and the good news is that it does. If you're shopping for a new car in Fairfield, here's everything you need to know about the 2022 Honda Civic to determine if it might be the right choice for you.
2022 Honda Civic Engine Specifications
The Honda Civic has a reputation as a vehicle that combines performance and efficiency, and the 2022 Honda Civic carries on that tradition. It comes with two available engine configurations, including a 2.0 liter four-cylinder, an in-line engine that produces 158 horsepower, and a turbocharged four-cylinder, an in-line engine capable of 180 horsepower. The latter also arrives with optional six-speed, quick shift manual transmission to provide you with maximum feel behind the wheel.
All that power doesn't mean that the 2022 Honda Civic can also offer fantastic fuel economy as well. The 2022 edition is rated with fuel economy as high as 33 mpg in the city, 42 mpg on the highway and a combined rating of 36 mpg.
2022 Honda Civic Exterior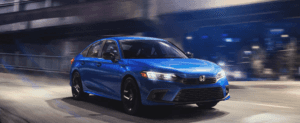 Car enthusiasts know that the Honda Civic is usually one of the most attractive vehicles released to market every year, and the 2022 Honda Civic continues that tradition. No matter which trim you opt for, and whether your vehicle includes the 16-inch wheels, 17-inch wheels, or 18-inch gloss black alloy wheels, the sleek design creates a stylish vehicle that is sure to turn heads. The 2022 Honda Civic also comes with LED headlights, which don't just look great, but also help you see great when the sun goes down.
2022 Honda Civic Interior
The 2022 Honda Civic is designed to be a spacious and comfortable as possible while still maintaining its sleek design and efficient performance. With nearly 100 cubic feet of passenger space in the Honda Civic sedan, there's plenty of room for you and up to four passengers to sit comfortably, with ample head, leg, and shoulder room. While the sedan configuration may not be able to match the hatchback alternative for cargo capacity, it still has room for up to 14.8 cubic feet of cargo in the trunk, even with a full load of passengers.
2022 Honda Civic Technology
The technology features of the 2022 Honda Civic are designed to make each ride as easy and enjoyable as possible for you. Simple smartphone integration with both Apple CarPlay and Android Auto allows you to pair your smartphone with your Honda Civic in order to maximize its functionality every time you drive. The touchscreen, available in both seven-inch and nine-inch options depending on your trim selection, makes it easy to access all of your 2022 Honda Civic functions.
Whether you prefer a podcast, an audiobook, or music when you get behind the wheel, the Honda Civic offers outstanding audio quality. With four-, eight-, and 12-speaker options to choose from, you can customize your level of audio performance. You can even use the optional speed sensitive volume compensation to increase the volume of your audio the faster you drive, allowing you to hear over the increased noise of highway driving without blasting too loudly on quiet town roads.
2022 Honda Civic Safety
The 2022 Honda Civic includes a broad range of the latest safety features and technologies in order to protect you and your passengers every time you take it for a drive. Safety features available with the 2022 Honda Civic include:
Adaptive Cruise Control:

Automatically adjusts your speed when in cruise control to maintain safe driving distances when a slower vehicle is in front of you.

Blind Spot Monitoring:

Notifies you if a vehicle is in your blind spot on the highway so that you do not attempt to change lanes.

Collision Mitigation Braking System:

Engages your brakes in order to avoid an accident.

Cross Traffic Monitor:

Uses sensors to check for approaching people and vehicles in your peripheral, and warns you of their presence in order to avoid unsafe conditions.

Forward Collision Warning:

Identifies potentially dangerous situations ahead and provides a warning to allow you to break or take defensive actions.

Road Departure Mitigation System:

Adjusts your Civic's heading if your wheels near the side of the road in order to keep you safely in your lane.

Lane Departure Warning:

Provides a warning on the highway if you move too close to one of your neighboring lanes, in order to avoid a potential collision with a neighboring vehicle.

Lane Keep Assist:

Guides your vehicle gently if you begin to exit your lane without having signaled, preventing accidental lane drift.

Traffic Jam Assist:

Automatically moves and stops your Civic during traffic jam situations, allowing you to maintain your space safely without having to apply and release your break manually.

Traffic Sign Recognition:

Scans traffic signs in order to identify the posted speed limit and notify you when your speed does not align.
2022 Honda Civic Colors
Finding a Civic that looks just the way you like it is made even easier by the varied selection of exterior paint colors available for the 2022 Honda Civic. Whether you prefer the dynamic look of Aegean Blue Metallic or Rallye Red, or one of the many options along the gray scale, there's plenty to choose from:
Aegean Blue Metallic.

Crystal Black Pearl.

Lunar Silver Metallic.

Meteorite Gray Metallic.

Morning Mist Metallic.

Platinum White Pearl.

Rallye Red.

Sonic Gray Pearl.
Find Out About the 2022 Honda Civic at Performance Honda
If you're interested in learning more about the 2022 Honda Civic, Performance Honda and our staff of trained automotive professionals are here for you. Feel free to call us or reach out through our online contact form with any questions you have. If you're ready to see the 2022 Honda Civic for yourself, you can visit our Honda dealership and take one for a test drive. If you like what you find, we're excited to get you behind the wheel at a price you can't beat! Call us at (513) 829-7300.