Are you having battery trouble? Or do you just want to test your battery to ensure it's in good condition? We can provide you with battery testing and replacement services at our Ohio dealership to keep your vehicle running smoothly.
Battery Replacement in Fairfield
Our auto technicians can perform battery replacements so you can get back on the road with confidence. If you've already had to jump-start your car or found it difficult to start your engine, a replacement battery could likely solve these problems. Even if you haven't noticed any symptoms of a weak battery, a battery test can determine whether it's time for a replacement.
You can access our battery testing service as part of our express lane services. These services are available without reserving an appointment in advance. All you need to do is stop by our Fairfield dealership and let our Honda-certified mechanics take care of the rest. If we determine that you need a new battery, we can work with our parts department to source one.
How Often Does Your Battery Need Replacing?
Every car battery deteriorates over time, which is why it's important to get it tested regularly. As a general rule, batteries should be replaced after three to four years of use. Batteries that are older than this are at risk of failing.
We recommend that you increase the frequency of your battery tests once your battery is three years old. By having it tested every six months, you can avoid having to deal with battery failure while you're on the go.
Several factors can influence how long your battery lasts, including your driving habits, the climate, and the amount of technology you run in your car. Due to a battery's chemistry, colder climates tend to wear batteries out more quickly. When the outdoor temperature is lower, it's harder for a battery to produce the chemical reactions necessary to generate the power your vehicle needs to start the engine.
Batteries may also wear out more quickly if you have a lot of technology running in your car, such as a high-powered stereo and entertainment equipment, or if you regularly charge your electronic devices. When you stop your engine, the battery takes over the provision of power for the electronics in your vehicle, including the radio, headlights, and other items. The more energy required to operate these features, the greater the strain on your car's battery will be.
Why It's Important To Replace Your Battery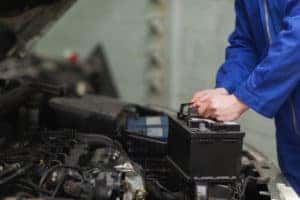 Replacing your battery on time is critical if you want to avoid the hassle of jump-starting your car or getting stuck because you can't get moving. Your battery provides the initial spurt of energy required to start your engine when you turn the key or push the button, so you can't afford to take any chances with it.
There are several warning signs you can look out for that indicate it's time to have your battery replaced. If you start your car and the engine takes several seconds to rev up, this delay suggests that your battery is struggling to produce adequate power to activate the ignition. It would be well worth stopping by Performance Honda to get your battery tested to determine whether it needs to be replaced. Weak batteries are a liability because you never know when they may fail completely.
Another warning sign to watch out for is if your headlights lose some power when your vehicle is idling, then brighten up when you hit the accelerator. The most common explanation for this is that your battery lacks the power to support your car's electronics when the engine isn't powering them. Again, a quick battery test at our service center will reveal whether it should be replaced.
As your battery gets older, you should perform regular visual inspections of it. Your battery's appearance can tell you a lot about its condition. While it's normal for a modest amount of buildup to be present on the terminals, you shouldn't see excessive amounts of fluid covering the battery casing's surface. Excess fluid on the battery suggests that chemicals may be escaping from the chamber, which is a reason to have it replaced. Another obvious sign of this is a pungent smell similar to rotten eggs.
Why Service Your Vehicle at Performance Honda
When it comes time to replace your battery, Performance Honda in Fairfield should be your first stop. Our professional auto technicians can safely dispose of your battery and expertly install a new one so you can be on your way in no time. We can help you select the best battery for your vehicle, even if you can't find your owner's manual or don't know which type of battery you require.
While you're visiting our service center for a battery test or replacement, our service team can also perform other important maintenance tasks. We can conduct a thorough multi-point inspection on your Honda. These inspections give our technicians the chance to examine various key components on your vehicle, such as the brake system, tires, and transmission, to make sure they're all in good condition.
We can then suggest any urgent work that may be required to avoid more serious problems. These tasks could include things like engine oil and filter replacements, brake fluid replenishments, or brake pad replacements. Preventive maintenance is one of the most effective ways to keep your auto repair costs down in the long run. It also helps your vehicle continue to perform at the high standards you'd expect as it gets older.
We hope we've answered all your questions about our battery replacement service. If you'd like to know more about our Honda-certified service center, don't hesitate to give us a call at (513) 829-6900. You can also schedule a convenient service appointment online. We'd be happy to provide you with comprehensive vehicle maintenance, including oil changes, tire rotations, and brake testing. Whatever your auto servicing needs may be, you can rely on our professional technicians at Performance Honda to provide you with our reliable and friendly services.
Featured Image Credits: Grayscale Photography of Car Engine by Mike B licensed with Pexels